Welcome to the Genealogy Webpage of
Bob & Cherry Hopkins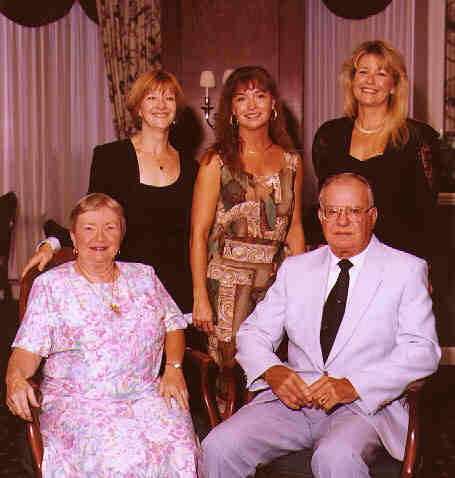 Bob with wife Cherry & daughters

Both my wife and I are native Missourians, she was born in Kansas City, and attended Southwest High School graduating from Sunset Hill.. I was born on my grandfather's farm in Putnam Co. but went to school in Milan, Sullivan Co.
I was awarded an athletic (football) scholarship to the University of Missouri. A year later we met on the campus (55 years ago). Cherry took an AB degree in Social Work and I a BS, then an MA and finally a PhD in Chemistry. We were married in 1948 while in graduate school.
I worked in research and development for 33 years in the oil industry and still consult in specialized areas. (We retired to the 18th tee of Golden Hills Golf course in Ocala, FL after living in Cleveland, Joplin, MO, Kansas City, Pittsburgh and Sebring, FL. We have three daughters, each with two children providing a window to the wonders of getting old.
While you are here, check out our gedfiles.

If you find a match, drop us an e-mail. We would love to hear from you.

Also, have a look at our Favorite Links page. We hope you will find them useful.

Webpage Design by:

© 2000-2002